SHADE SAILS – A BREATHABLE MATERIALS MANUFACTURING PRODUCT
HDPE (High-Density Polyethylene) shade sails have become increasingly popular in recent years as a stylish and cost-effective way to provide shade and protection from the sun's harmful rays. There are several reasons why people like to use HDPE shade sails:
Durability: HDPE is a highly durable material that can withstand extreme weather conditions, including intense sunlight, heavy rain, and strong winds. As a result, shade sails made from HDPE can last for many years without fading, tearing, or stretching.
UV protection: HDPE shade sails are designed to block out up to 95% of harmful UV rays from the sun, making them an excellent option for providing shade and protection to outdoor spaces such as patios, decks, and swimming pools.
Cost-effective: HDPE shade sails are an affordable alternative to traditional shading options such as awnings or umbrellas, making them an attractive option for those on a budget.
Easy to install: HDPE shade sails are relatively easy to install and can be customized to fit any outdoor space. They require minimal maintenance and can be taken down and stored away during the winter months.
Aesthetically pleasing:
HDPE shade sails come in a variety of colors and designs, making them a stylish addition to any outdoor space. They can be used to create a unique and eye-catching look that complements the surrounding environment.
Breathability: HDPE shade sails are made from a breathable material that allows air to flow through, creating a comfortable and cool environment beneath them. This is especially important in hot climates where the sun can make outdoor spaces unbearable.
Environmentally friendly: HDPE is a recyclable material, which makes it an environmentally friendly choice for those looking to reduce their carbon footprint. Additionally, shade sails can help to reduce energy consumption by keeping outdoor spaces cooler, reducing the need for air conditioning.
Detailed Description
Customizable:
HDPE shade sails come in a range of shapes and sizes, which means they can be customized to fit any outdoor space. This makes them a versatile option for providing shade and protection in a variety of settings, from residential gardens to commercial outdoor areas.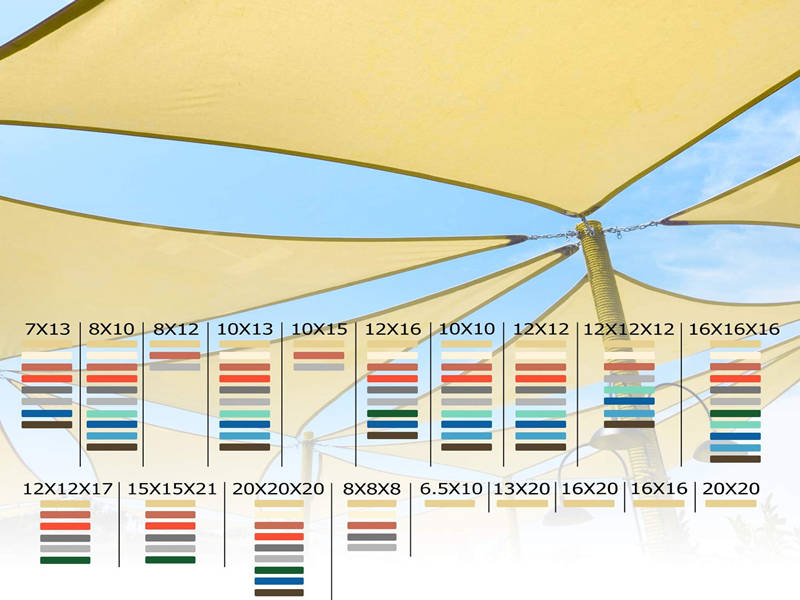 Low maintenance: HDPE shade sails require very little maintenance and can be easily cleaned with soap and water. They do not require any special treatments or coatings, which means they can be left outside year-round without fear of damage or deterioration.
Versatile: HDPE shade sails can be used for a range of purposes beyond providing shade, such as creating privacy, defining outdoor spaces, and adding visual interest to an area. This versatility makes them a popular choice for architects, landscapers, and designers looking to enhance outdoor environments.
Overall, HDPE shade sails offer an excellent combination of durability, UV protection, affordability, and style, making them a popular choice for those looking to enhance their outdoor living space.
We are an agricultural net manufacturer with 24 years of OEM&ODM experience, covering products including shade nets, shade sails, Bale Net Wrap, Anti Bird Netting, Anti Hail Netting, Olive nets, construction nets, Camping Awning Carpet, Weed Matting, insect nets, fence net, and aluminum foil nets. We can customize products according to your samples. our products are sold in 160 countries around the world, got a lot of customer high praise, looking forward to cooperation with you!