High-density polyethylene fiber woven sunshade sail
sunshade sail product features
The sunshade sail is a sunshade materials woven with high-density polyethylene fibers. Furthermore, the gram weight of the material often used for sunshade sails is above 180g per sq. meter, which might guarantee enough shading price.
The sunshade sail fabricated from 185gsm UV-resistant high-density polyethylene sunshade cloth is bolstered by the perimeters and has sturdy stitching at each nook. Each nook has a D-ring fabricated from stainless-steel. This D-ring won't rust, has a powerful tensile energy, and might present enough tensile drive to assist.
The sunshade sail is fabricated from a breathable materials with sunshade impact, so it permits air and moisture to cross by way of, in order to acquire higher air flow and a snug setting. It permits rainwater to cross by way of, so it doesn't accumulate water and can't be waterproof. Its cloth is a type of PE materials, which might present superb UV resistance and might adapt to the outside setting with out getting old.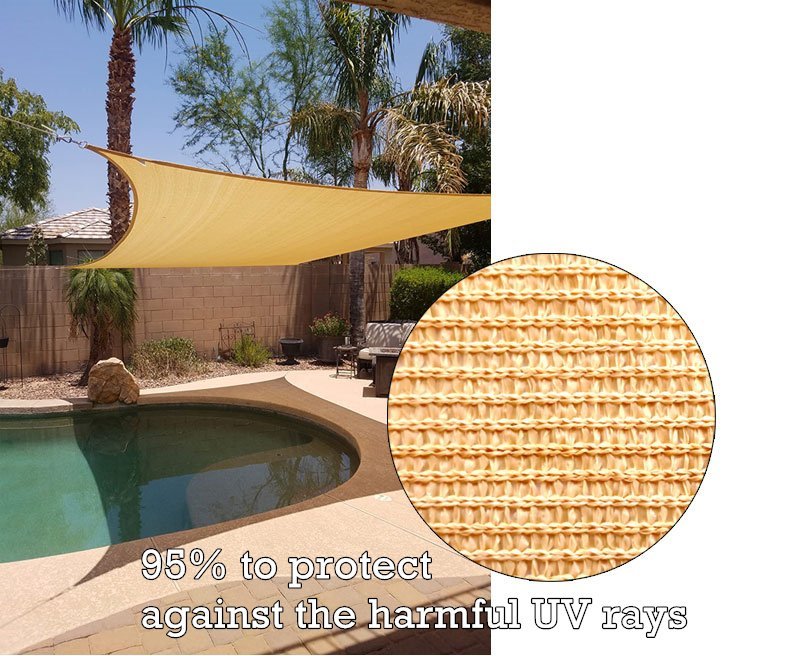 The breathable materials that may breathe is fabricated from high-density polyethylene materials that's fully used for the primary time, which is completely different from these recycled supplies. The material has been handled with a UV-stabilizing compound, which might stop the shade sail from fading, preserve toughness, and have an extended service life. Lengthy-term use, the looks doesn't change.
Product Details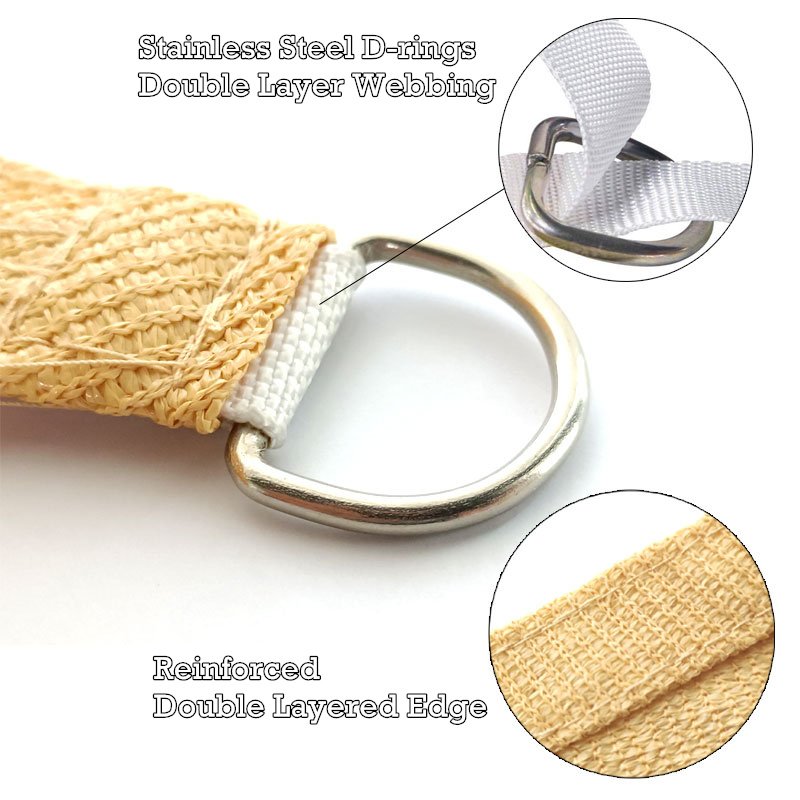 The D-ring fabricated from rust-proof metallic is often fabricated from 304 stainless-steel. Stronger, stronger anti-rust capability, and on the joint of the D-ring, thickened double-layer materials is used for reinforcement.
A hidden assist ribbon can be added to the bolstered edge. The construction of this design significantly enhances the energy of the sunshade sail and might resist most windy climate.
The sting of the sunshade sail isn't straight, and the opposite is barely curved inward. This design can make sure that when the perimeters are tightened, the center of the shade sail won't sag. This may obtain one of the best look and efficiency. This design not solely will increase the aesthetics, but additionally prevents the sunshade sail from sagging after set up, which can trigger fallen leaves and particles to build up.
We are an agricultural net manufacturer with 24 years of OEM&ODM experience, covering products including shade nets, shade sails, Bale Net Wrap, Anti Bird Netting, Anti Hail Netting, Olive nets, construction nets, Camping Awning Carpet, Weed Matting, insect nets, fence net, and aluminum foil nets. We can customize products according to your samples. our products are sold in 160 countries around the world, got a lot of customer high praise, looking forward to cooperation with you!